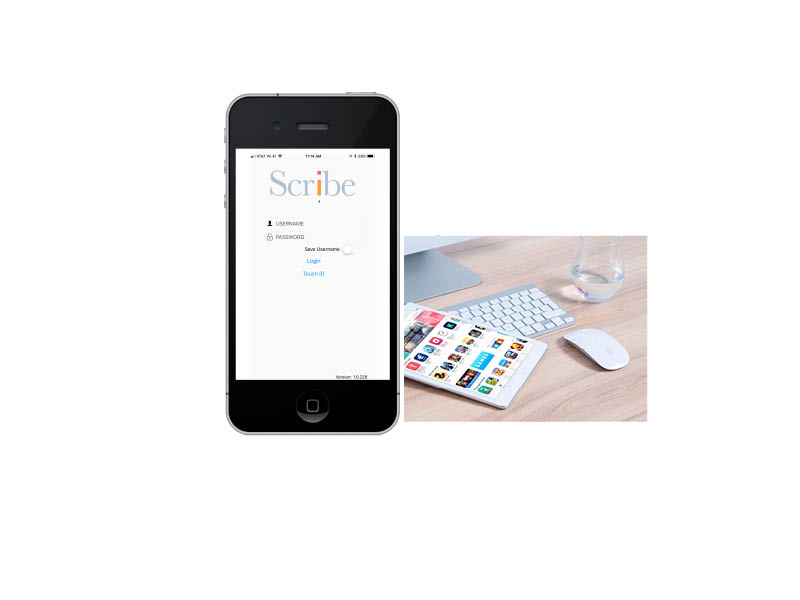 ScribeMobile provides a streamlined process and technology that incorporates many functions of single-use apps
Over the last decade or more, mobile devices have become as common as stethoscopes for healthcare professionals. Studies indicate that most providers use their mobile devices to help them in their everyday work, and as younger providers enter the workforce that trend is likely to increase.
Have you seen how many apps are available for healthcare professionals? Apps for iOS and Android mobile devices have been developed to assist with a wide range of tasks including:
Health record maintenance
Time management
Patient monitoring
Information management
Communications
Clinical decision-making
It can get confusing – and as a result increase the changes of errors – when switching back and forth between different apps that each only do a portion of the necessary work.
ScribeMobile™ is an effective way to use fewer apps and reduce errors while increasing productivity. Scribe's innovative mobile app gives providers greater freedom to focus on their patients instead of being tied to their computers and keyboards.
ScribeMobile's Features and Benefits include:
Create medical documentation via audio and photo capture that will be placed directly into the EMR per the provider's directions
Access to a Virtual Medical Scribe who will complete immediate tasks for your documentation and other needs as directed.
Integration with patient schedules
Any patient record can be revised, reviewed, edited, and approved directly on ScribeMobile's screens
Refer to past patient encounters while recording a current visit
Use templated guides to help streamline and better organize your encounters to make sure needed information is captured to optimize billing and patient care
Easy to share patient encounters with other providers
With one log-in, ScribeMobile provides a streamlined process and technology that incorporates many functions of single-use apps. The access to health records is key to clinical decision making and communication with other providers. Time management improves as the patient records can be accessed at any time, anywhere convenient for the provider.
ScribeMobile allows providers to turn their mobile devices into an efficient platform for clinical documentation right in their hands.
Let our team show you ways to simplify and improve your documentation processes with ScribeMobile and our innovative technology.