The first integrated telehealth documentation solution for healthcare providers
As the need for telehealth technology exploded during the current health crisis, Scribe brought to market an innovative solution that provided immediate opportunities for healthcare providers to continue to service their clients AND have completed documentation to support the care of their patients and facilitate reimbursement with one easy to use tool.
No more trying to use an app that is not healthcare focused to connect remotely to your patients. Scribe's solution has been designed by healthcare professionals for healthcare professionals. Its flexible architecture makes it easy to virtually replicate your physical office workflow. What's more, you can use this tool with or without the documentation component. It's so simple you can get started immediately.
Features & Benefits
Easy to setup: Get started in an afternoon.
Flexible Workflow: Mimic your existing physical office workflow.
Portable: Work from any location.
Tailored to Healthcare: Easily capture required healthcare information and notes, not just connect to the patient.
Multi-User: Allows multiple users to "visit" with the patient in their virtual exam room based on duties, such as check-in, intake, exam, check-out, etc.
Information Sharing: As various users interact with patients they can add notes and other information to the patient's "virtual chart" that stays with the patient's virtual exam room. This is available for each user before they enter the virtual room and allows them to update it while they are in the virtual exam room.
Exchange of Files: Share files and images.
Recorded: All virtual encounters are securely recorded for documentation and compliance purposes.
Documented: Once a virtual encounter is completed, Scribe's team can easily complete all necessary documentation and distribute it wherever it needs to go – whether that is to the patient, a referring MD, or your EMR.
How does it work?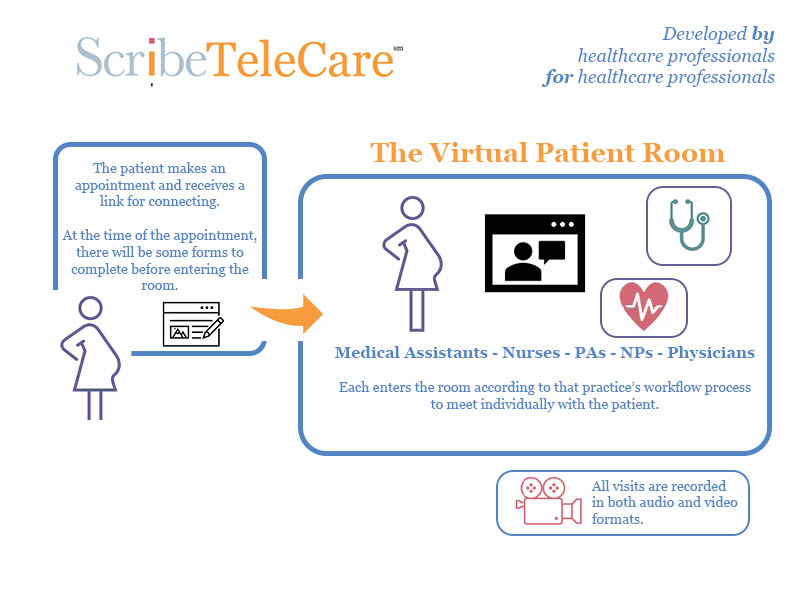 For patients
Simply send the unique link to your patients with your appointment reminder through emails or texts. You also can give them the link over the phone.
Patients click on the link and are taken to the Scribe TeleCare web site where they can enter their name, reason for visit, accept the terms and conditions, and they are ready to go.
Patients enter the virtual "lobby" and are greeted by your designated check-in person just as in your physical office.
From there your check-in team can assign them to whoever is to see them first. Whether it's an MA, or PA, or the MD directly, patients are able to be quickly and easily routed to the appropriate care team based on your desired protocols and workflow.
As each team member completes their assigned tasks, the patient is assigned to the next person in the process and ultimately checks out once they have completed your workflow.
For Staff
Staff logs in to the web site and can see patients that have been assigned to them along with any information that has been captured along with way. throughout the virtual visit.
They choose the next patient "virtual room" to visit just as they would in the physical office and complete their tasks before assigning to the next person in the process.
Admins can see all activities and monitor all patients and staff to make sure no one falls through the cracks.
With Documentation
If you choose to add the documentation component our team will ensure that all required information is documented and put into your EMR and / or disseminated to wherever you would like it to go.
Scribe TeleCare is powered by: