You know how you want to practice medicine. We know how to work with you to craft a documentation solution that meets your individual needs.
Our goal is to provide a solution that is tailored to the provider – we do not sell you an out of the box product – we craft a solution for you to collect, manage, and communicate patient information. In this way we can make sure we meet your goals, workflows, and budgets.
What We Do:
What We Don't Do:
We listen – to your goals, workflows, budgets, and priorities.
We can offer suggestions on how to reduce time on documentation.
We work with each provider/organization to craft a solution that will work for them.
We do not try to put a round peg in a square hole by selling a point product or one size fits all solution
We do not presume to know what the best solution is for their practice.
How We Craft A Solution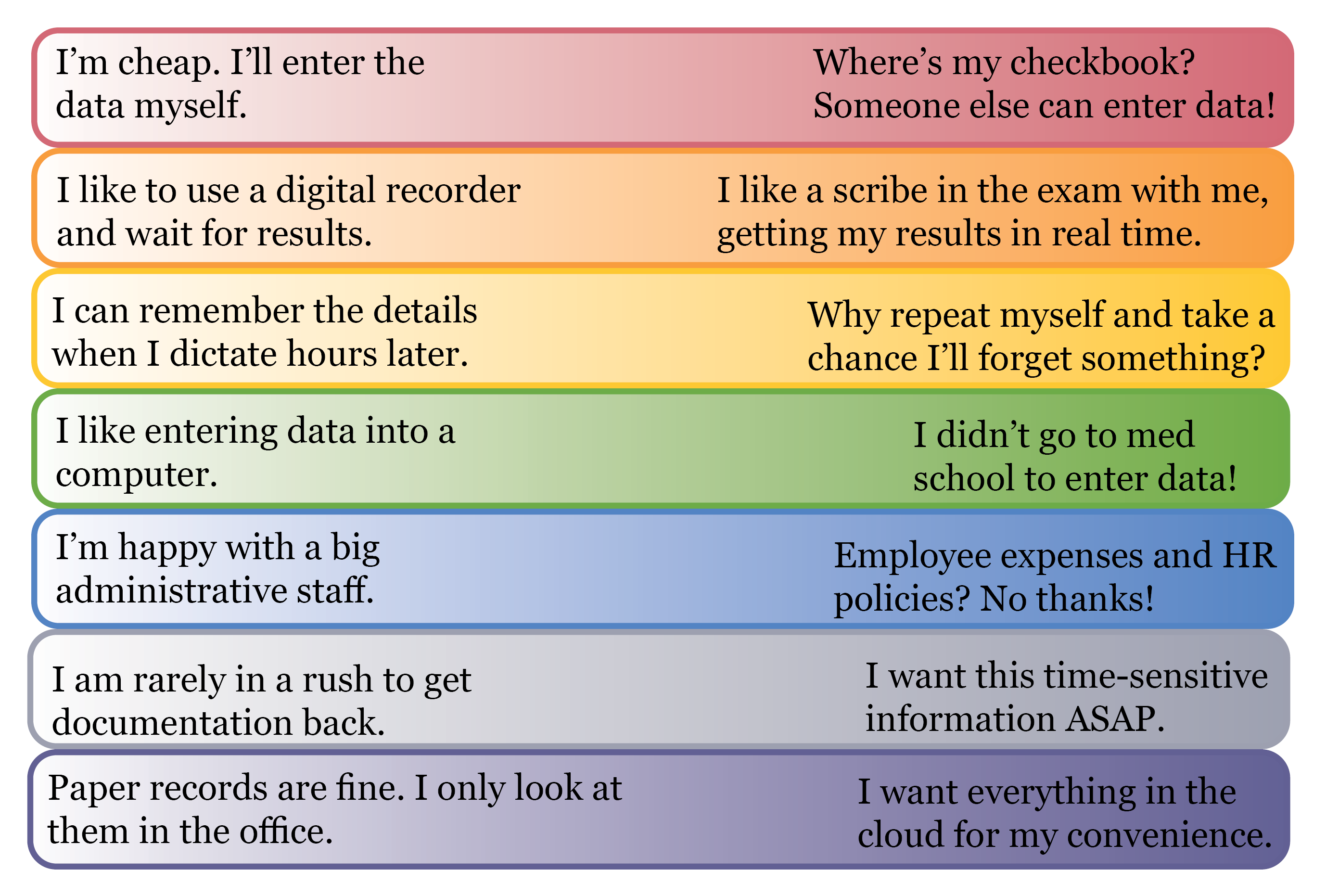 What are your preferences?
Scribe's team works closely with each provider to understand the current workflow, optimize efficiency, and develop a documentation solution that not only meets their specific needs but exceeds their expectations while helping to improve productivity, profitability, and patient care.
We use the following solutions to craft the solution that will meet providers' preferences along that spectrum.
tranScribe
Traditional dictation and transcription
chartScribe
Traditional Transcription that returns a completed narrative in an electronic format, typically created with ScribeMobile, our innovative app.
Patient encounters are accessible via Scribe's secure cloud platform to review, edit, archive, fax, email, or download at the discretion of the provider and practice.
Dictated recordings are entered into the patient chart in a structured format by a remote virtual scribe, based on the provider's instruction set specific to each patient.
We work with each practice to craft their ideal combination of speed, price, and technology.
LiveScribe
LiveScribe assigns a live, remote documentation specialist who listens in real-time to the patient visit and enters information into the EMR/EHR as directed by the provider's instruction. The virtual scribe charts the docu­ment and may be able to enter orders or prescriptions and even add coding and billing information.
Scribe TeleCare
Scribe TeleCare has been designed by healthcare professionals for healthcare professionals. Its flexible architecture makes it easy to virtually replicate your physical office workflow.  What's more, you can use this tool with or without the documentation component. It's so simple you can get started immediately.
Learn about Scribe's other solutions that help providers with
Productivity, Profitability, and Patient Care.